Delicious Corsets bridal designs using supplies from CorsetMaking.com
These are some photos from over the years of some lovely brides who chose Delicious and allowed us to take part in their big day! Thank you, we love helping to make your wedding gown just as you imagine it!
Red silk corset with matching bustled silk skirt and a white tulle petticoat. Thanks Eva!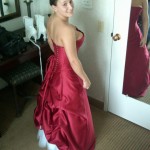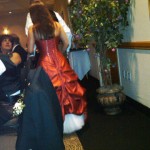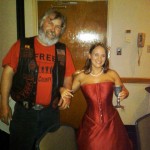 Lisa, this combination of silk, lace overlay, lace drape and armlettes, and georgette skirt is stunning, having fun with the photos too!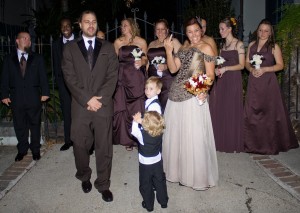 This whole wedding party was grey and white. We made the grey pinstripe corset, the matching shorts with white silk welt pockets, and their twin boys also got the grey and white pinstriped shorts. Liz and Shannon, we're honored to be part of your big day!
Some non traditional wedding attire.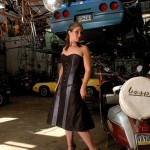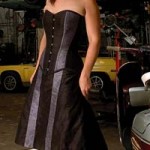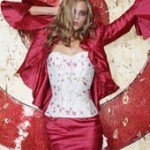 Beautiful Lauren in a silk corset with ruched tulle at the bust and a super full princess skirt. The bust line and hem were adorned with Swarovski Crystals.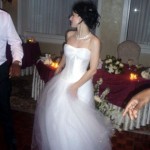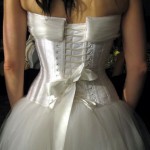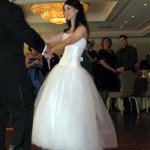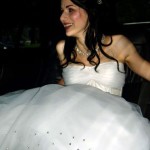 Another non-traditional bride. I just loved making this bias cut blue and brown plaid skirt! And the bride was stunning! Mamie, thanks for putting a new twist on bridal!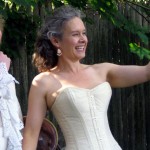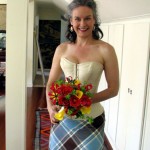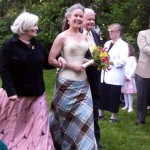 The lovely Betsey in our Corseted wedding gown. Complete corset underneath with the gown attached at the top leaving an open V in the back to expose the corset and lacing. A healthy dose of pink tulle at the hem compliments the pink corset! As you can see, great for dancing.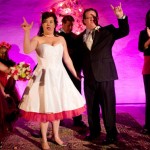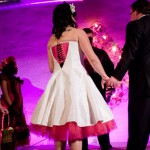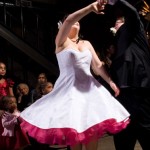 Becky was nearly drowning in this tulle underskirt. Her red brocade asymmetrical over skirt and corset are totally unique. I love the combination of colors and textures. What a beautiful day! (I wish I had a photo of me drowning in the tulle at my Juki.)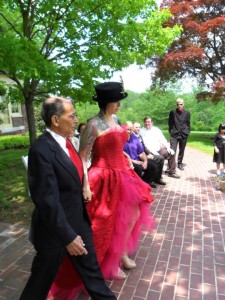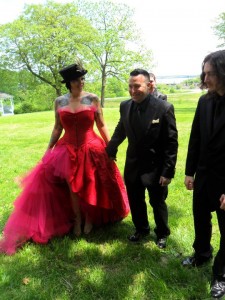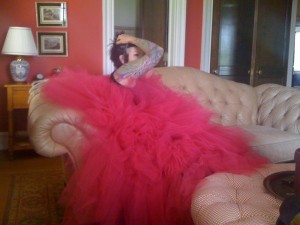 Shannah's Alice in Wonderland wedding was spectacular! Her black and white corset had exposed bone casings and lace trim. Her tulle underskirt is layers of black, white, and more black in graduating widths. The brocade bustled overskirt took over 16 yards of brocade, and the longest pattern pieces I've ever drafted!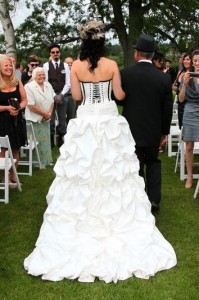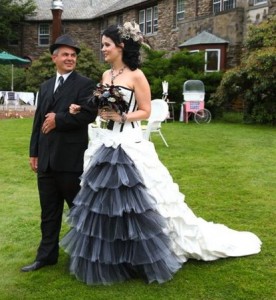 We also make corsets as foundations for gowns bought at bridal boutiques.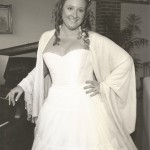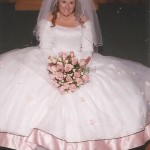 This corset gown was made from the same material you use at the bottom of Footy Pajamas, little rubber bumps and all! It looked like a point d'esprit. Daffodil tulle and lacing to go with the fresh Daffodils. Thanks Erin!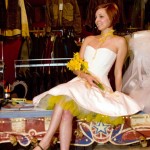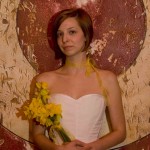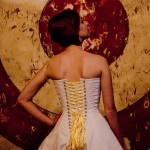 Wow, Jenni, Kat, Rebecca, all beautiful!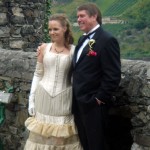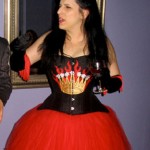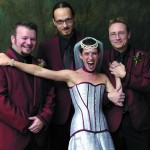 Although red is not your traditional wedding gown color, we seem to make quiet a few red corsets and gowns. As you can see with Mae, it is stunning and dramatic!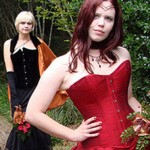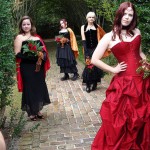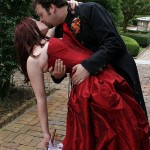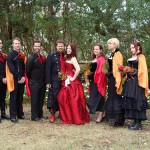 I love when a bride wants to incorporate bright colors, the orange bias trim and lacing were made from a piece of fabric the bride had found and loved. There are pale lavender silk flowers nestled into the bustled silk skirt. And you have to love a bride with a sense of humor! (And her sister as well!) Fabulous smile Michelle!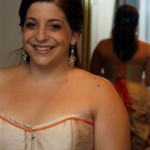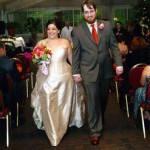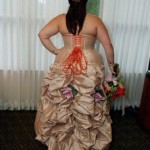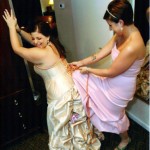 This was a collaboration with an artistic bride, Shelita. We gave her the silks and she pieced all the different colors together making her own unique fabric. We then used her hand made fabric to cut out her corset. Totally one of a kind, and she was glowing!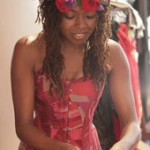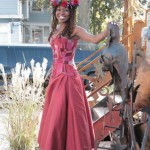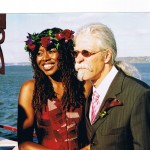 This is while in progress, as you can see by my pins. I'm still looking for a photo of the entire ensemble, I can assure you, it was stunning!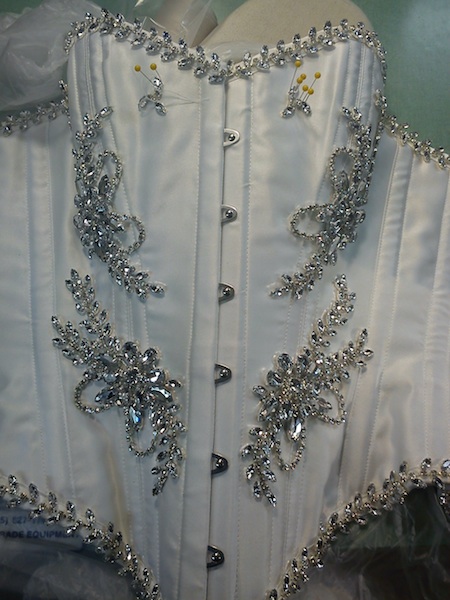 Sara was another bride in red, these were from such a long time ago that some of these pics had to be scanned from Polaroids.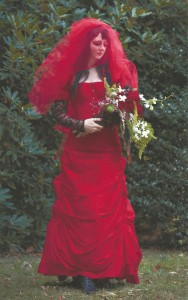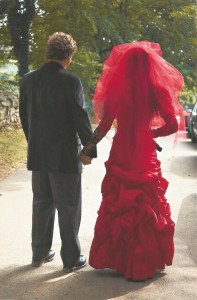 Please excuse the mannequin, the bride was unavailable for photos!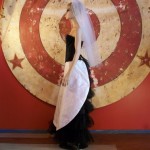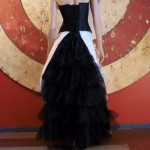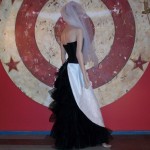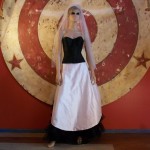 ~Amy Delicious