On June 11th, 2017 we vended at the Morris Arboretum at the University of Pennsylvania in Philadelphia. It was their annual Steampunk Expo. Despite the heat is was a lovely day. There were about a dozen or more vendors offering a wide variety of wares. Quite a few of the attendees were dressed in amazing outfits, and there were many children who already have a great idea of the Steampunk aesthetic. Plus, the Arboretum itself is not to be missed.
I just wanted to share the wonderful new outfit we at Delicious Corsets made for me to wear at the Expo.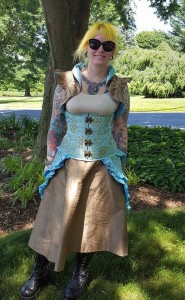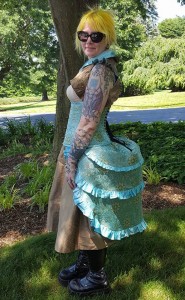 The corset I wore is the one we made for the tutorial on how to set our Steampunk Swing Clasp Busk Sets. Check out the Steampunk Swing Arm Clasp Busks, and check out the Steampunk busk tutorial . I've been making and wearing corsets for 25 years, this was my first corset with a Steampunk Swing Arm Clasp closure. After wearing that corset all day vending 10am till 5pm, it was the EASIEST corset I've ever worn to get off of my overheated body. I can't recommend them enough! Just lift the 4 arms and POP, you are released!
Of corse I had to wear a bustle! Go big or go home when it comes to Steampunk styling. We offer many patterns on making hoop skirts and bustles.
I know, I know, I should have been wearing a mini top hat! It was over 95 degrees and although there was shade, the air was still. No hat for me that day! (Plus, we ran out of time! Oops)
We do offer many supplies to make the perfect hat, send us your photos of what you make!
Hat Patterns
Buckram
Millinery Wire
Hat Bases
Hat Ribbons
Hat Ornaments
~Happy Sewing, Amy